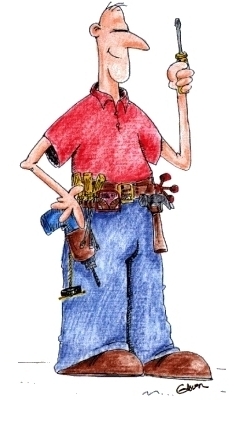 APPLIANCE REPAIR -
DO IT YOURSELF!
"It's like having a professional
looking over your shoulder walking
you through the repair...."
— W. Millhouse, Orange, CA
"Why pay $50-$60 just for someone to come to your house and diagnose the machine, (and after that, even MORE for them to actually DO the repair) when you can do it yourself for less than twenty-five bucks?" "The same questions tend to get asked about the same machines over and over. We've taken the answers and put them in a convenient, easy to read online form...."
- Douglas Emley, author Cheap & Easy! Appliance Repair Manuals
Please Choose an Appliance Repair Manual




Top-Loading
Washing Machine
Please Note:
This manual
does not cover
front-loaders


Clothes Dryer
Refrigerator
or Icemaker


Dishwasher
Cooktop or
Wall Oven
Stove or Range
EB appliance repair manuals are written in plain English (with a touch of humor) and cut right to the heart of the problem — how to diagnose and fix the most common problems with the most common machines. Thoroughly illustrated, and designed SPECIFICALLY for the do-it-yourselfer, our manuals are endorsed by thousands of satisfied customers as well as the members of the Handyman Club of America, and appliance service and parts professionals throughout the U.S. and Canada. With simple instructions and easy to follow diagrams you'll be saying goodbye to costly repair bills and hours of waiting for the repairman.
ARE YOU LOSING 300 BUCKS WORTH OF FOOD
IN A REFRIGERATOR THAT'S GETTING WARM?
All of our easy to follow manuals are available ONLINE for your immediate access, so you can start your repairs right away!!
Start saving money and time TODAY with one of our popular appliance repair manuals!